text.skipToContent
text.skipToNavigation
/logout
Board Game Bust-Ups
Which games are most likely to end in an argument?
Board games have seen a huge spike in popularity in recent years, with people of all ages gathering round tables to play their favourites. It doesn't matter how young or old you are, board games are something we can all enjoy.
However, while it's all fun and games to begin with, things can sometimes get a little bit competitive and arguments can break out. But is this the same for all games? Or are some more likely than others to cause us to fall out?
We surveyed the nation to find out which board games we're playing the most and which are causing the biggest bust-ups.
What are the UK's favourite board games?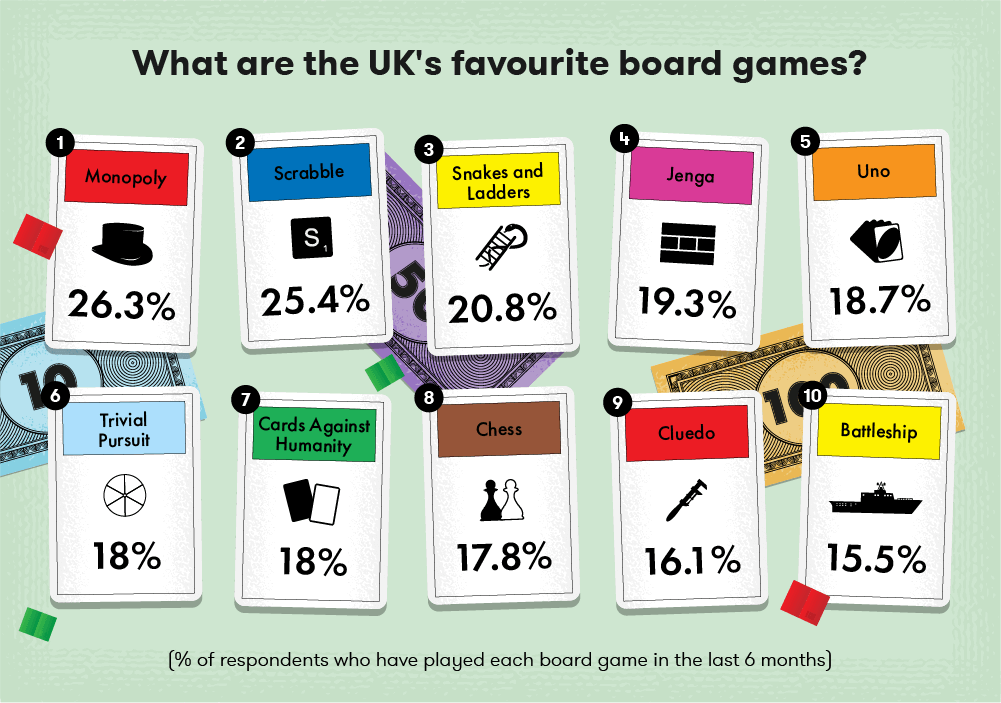 Monopoly continues to top the chart as the UK's most popular board game, with 26.3% of us having played this family favourite in the last 6 months. Scrabble comes in second, with 25.4% of Brits having played it in the last 6 months, followed by Snakes and Ladders with 20.8%.
---
Which games are causing the most arguments?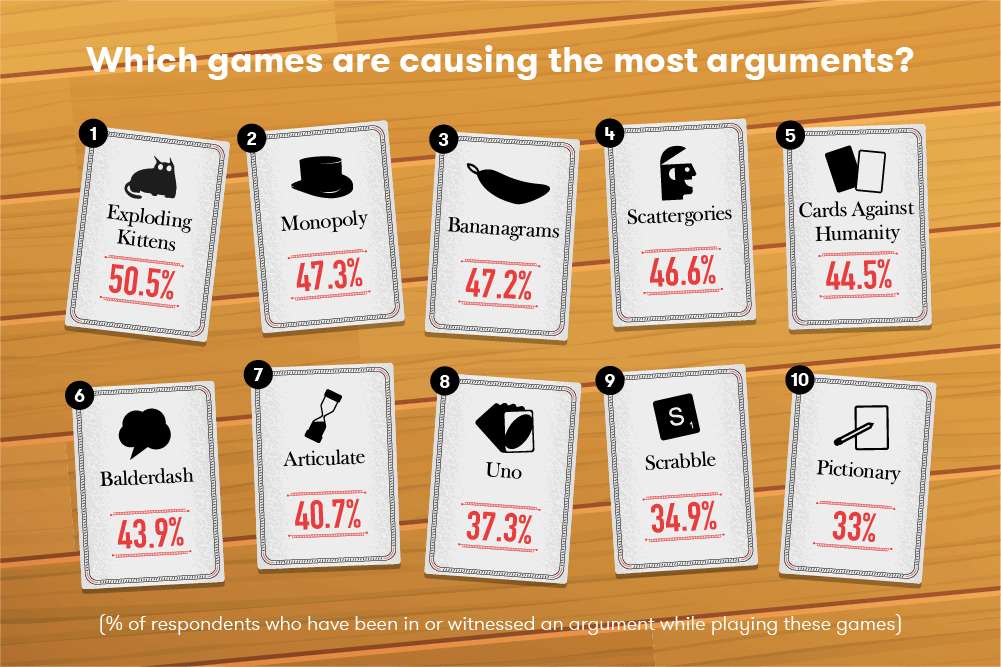 Exploding Kittens takes the top spot as the most argued about game, with over 50% of players saying they've been involved in or witnessed an argument while playing. A fast-paced card game with a long list of unusual rules, Exploding Kittens has become an increasingly popular choice among teens and millennials.
---
What are we arguing about the most?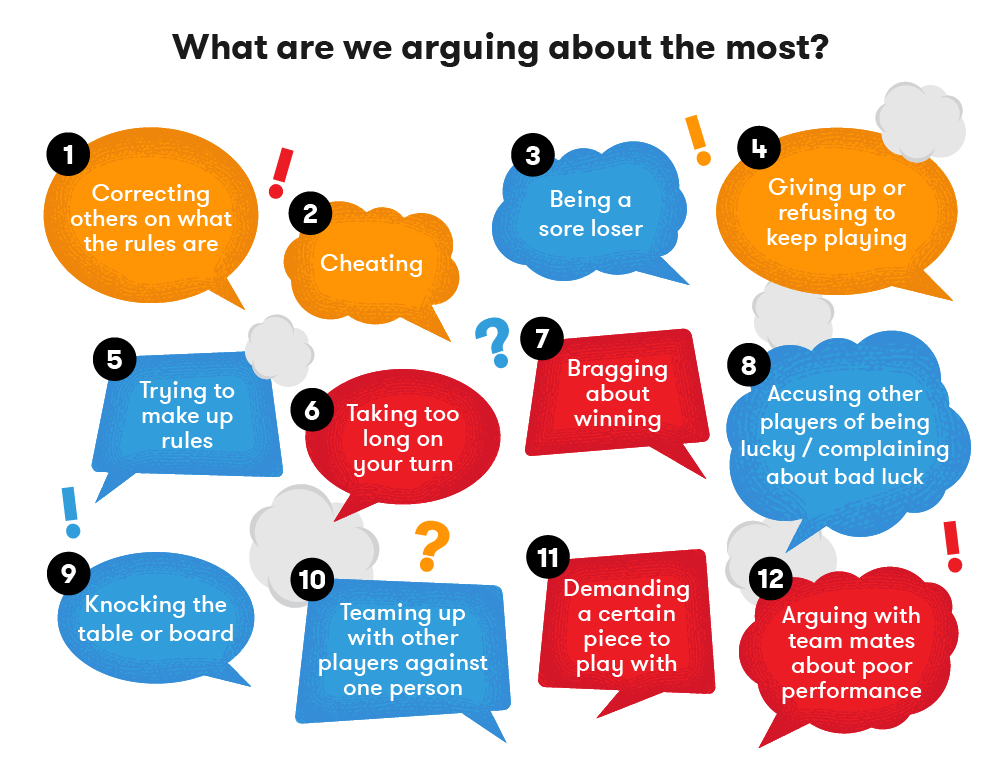 Rather than limit the number of arguments, rules turned out to be the biggest cause of them. 42.4% of Brits have been involved in or seen an argument caused by someone correcting others on what the proper rules are, while 35.8% have argued over someone trying to make up their own rules.
---
Which cities are arguing the most?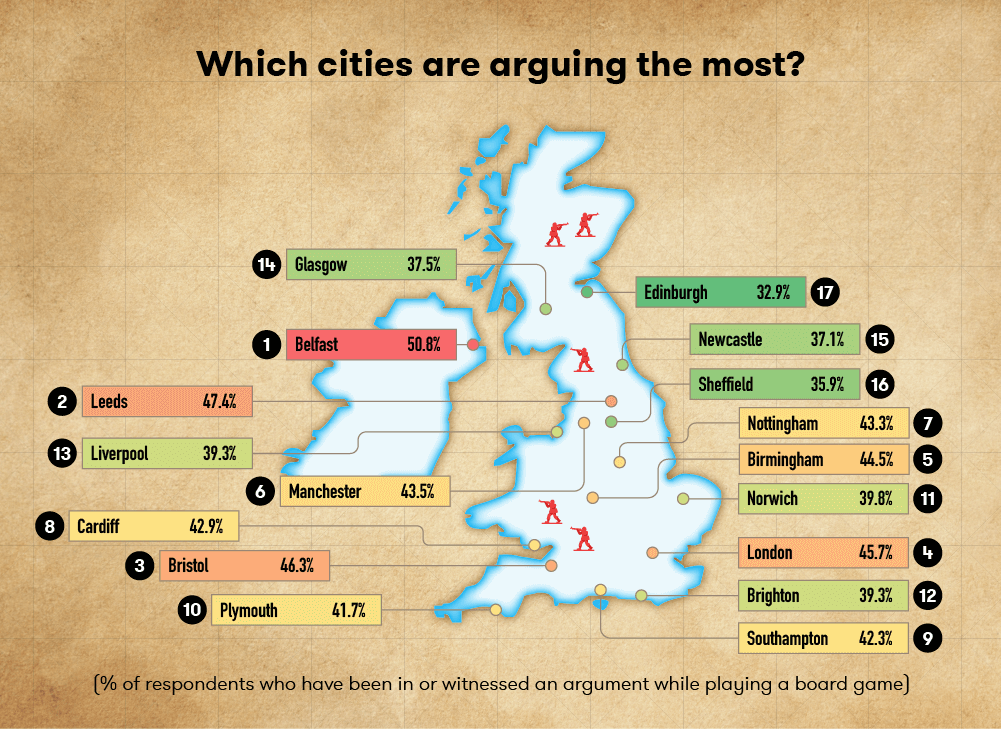 Belfast came out on top as the most argumentative city in the UK, with over 50% of respondents having been in or witnessed an argument while playing a board game. At the other end of the scale, those in Edinburgh are least likely to fall out, with only 32.9% having been in or witnessed an argument over a board game.
---
Which cities are cheating the most?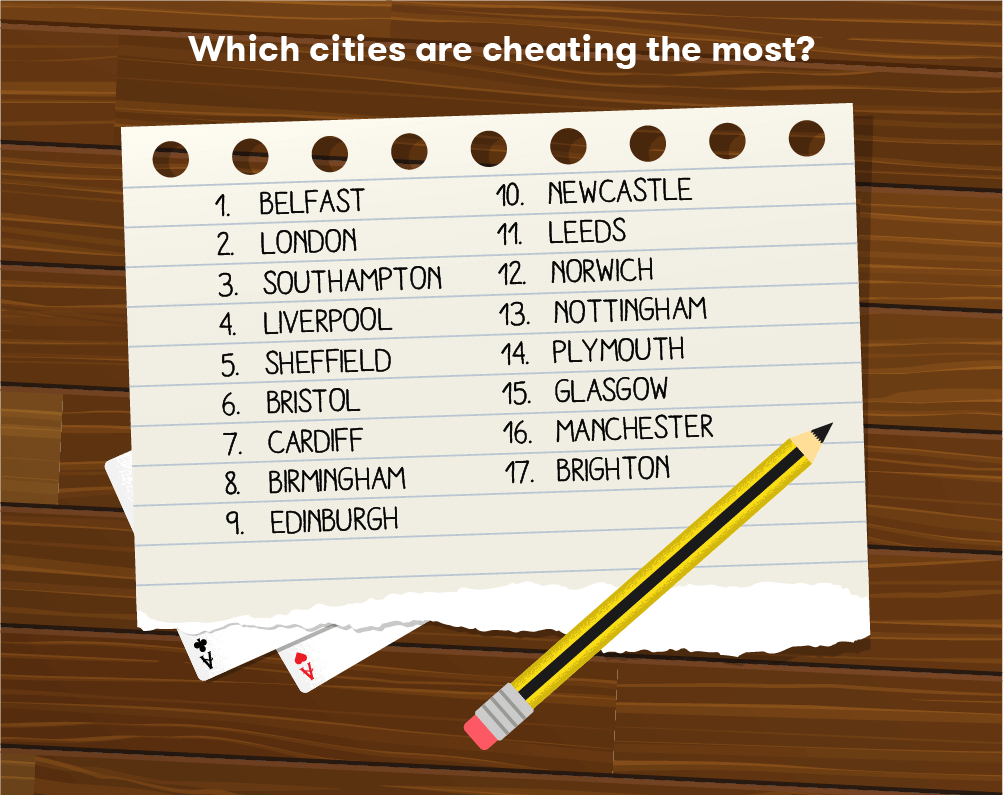 Belfast also came out on top for cheating, with 24.6% of people admitting to cheating while playing a game. And to make matters worse, 13.1% got away without anyone noticing they'd cheated! Players in Brighton were the most honest, with only 10.7% admitting to cheating.
---
Which cities are most and least likely to commit these offences?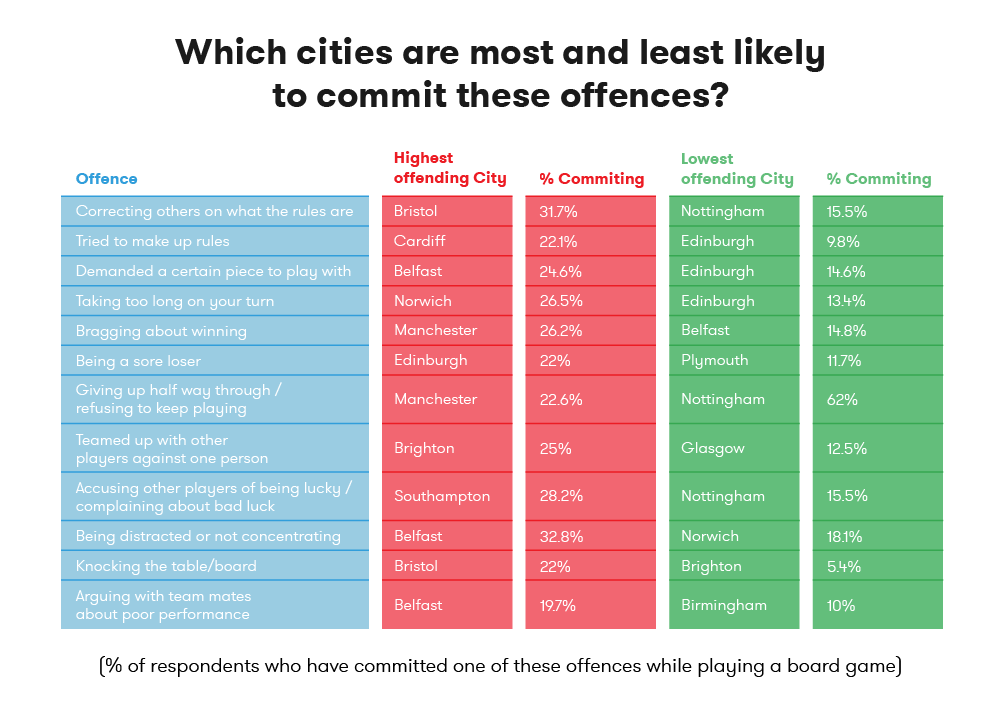 People in Bristol are most likely to correct others on what the rules are or knock the table, while up north, players in Manchester are most likely to brag about winning or give up playing half way through a game.
---
3 top tips for avoiding board game bust-ups
Don't worry, while it's quite common to fall out while playing a board game, these arguments are quickly forgotten about! There are also some simple steps you can take to minimise the chances of any board game bust-ups.
Make sure everyone is clear on the rules before you begin. Disagreements or confusion over the rules are some of the main causes of arguments when playing board games. So, take some time to go over the rules before you start, making sure everyone is 100% clear on them, to avoid issues further down the line.
Take a break if things start to get heated. If you start to notice players looking a bit worked up and think an argument might be on the horizon, don't be afraid to stop and take a break. Step away from the table for 5 minutes and give everyone a chance to cool down.
Remember, it's just a game. While it's easy to get swept up in the excitement of everything, it's important to remember that it's just a game. It doesn't really matter who wins or loses, the most important thing is that everyone has fun!
---
Planning your next game night? We stock a wide range of
board games
, perfect for the whole family. Or if you're looking for something more relaxed, why not check out our selection of
jigsaws?