Welcome to Our Playground
So, what are your career options?
At The Entertainer we have brilliant and motivated teams in our stores, head office and online who are constantly dreaming up ideas so we can be the best-loved toyshop. Each area of the business has their own career paths with opportunities for progression and development, you just need to decide where is right for you!
Nothing is more important to us than our own people, we want you to grow and develop with us, which is why we will support you with training such as Modules, training courses and an Aim Higher programme designed to encourage people to take the next step in their career.
Whether it be in our stores, or in head office, we are sure to have the right career for you.

Head Office
Head office is there to support the stores and any other channels. The office is in Amersham, where the first Entertainer store was established back in 1981. There are a variety of different teams and disciplines that you can choose to work in all with their own career paths to allow you to grow. The great thing about retail is all these opportunities are under one roof!
Buying
Buyers
Buying Administration
Merchandising
Marketing
Brand Marketing
Retail Marketing
People
HR and People Management
Payroll
Recruitment and Training
Office Support
Retail Operations
Risk Management
Central Operations
Customer Services
Store Development
Area Manager and Field Support
Logistics
Replenishment
Fulfilment Operations
Web and Online
Online Merchandising
Online Marketing
European Customer Services
Property
Facilities
Estate Management
Finance
Financial Planning
Management Accounting
Transaction Team
IT
IT Technical Support
IT Development
Business Solutions

Area Manager
Here's the job that many retail managers aspire too! It's tough but very rewarding. Your job is to lead and inspire and develop your store management teams to achieve their sales targets. A consistent focus on improving commercial awareness, customer service and operational excellence within your area will be crucial for success.
At busy times there may also be an opportunity to show off your merchandising or customer service skills by rolling your sleeves up and getting stuck in to real life on the shop floor, working with the team to help sell those toys!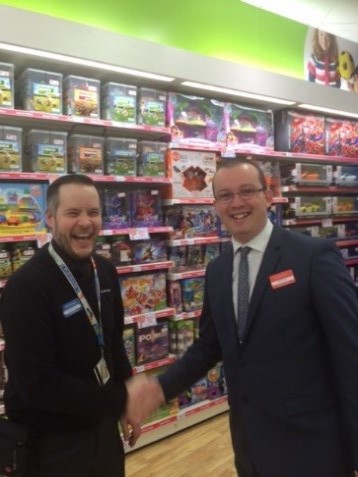 "Working for The Entertainer is the most rewarding job I've ever had. Supporting the stores is the essence of this position and something which I am passionate about in order for the company to succeed. Talking to stores teams and encouraging ideas is the key to not only a great working relationship but also to the development of the business, everyone has an opportunity to make a difference. As an Area Manager I can manage my own time to ensure I have contact with my team regularly and am there to also get stuck in when needed! The fantastic thing about The Entertainer is that you have a direct contact with those at the top of the business, with an opportunity to keep them updated on stores performance and what makes our Areas unique. From Retail Operations, to the Board of Directors, there are great communication channels to help us stay informed.
The Entertainer is a caring company who value its employees and their families, represented in the fact that every Sunday is a guaranteed day off, something which is rare within retail, but definitely a fantastic benefit for your work life balance."

Store Manager
If you have a competitive streak you will love running one of our shops! Toy retailing is demanding and fast paced with a real focus on delivering brilliant service to both our big and our little customers. To be a Store Manager, you will be hands on and enjoy operating in volume driven, highly seasonal trading environments. You will also need to have great leadership and people skills to be able to develop and motivate your team to deliver a top performing store.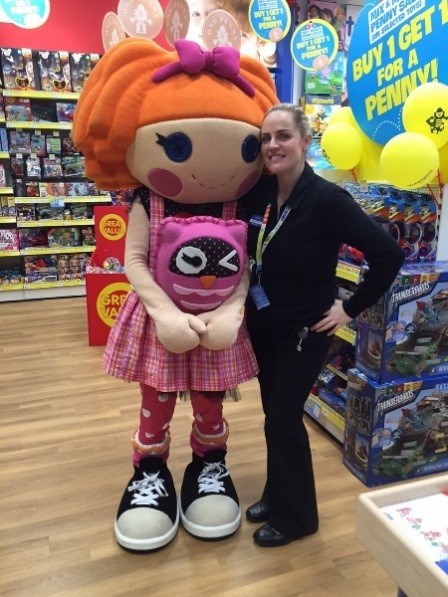 "I always get asked 'What's it like to be a Store Manager of The Entertainer Toyshop' Well, Let me tell you…IT'S AMAZING! The Entertainer is so different from other stores, we interact with our customers and take them on a journey through our Playground. My favourite part by far is demo and dress up days, we work hard all week to make sure Saturdays are super special. It's a great feeling to know that every child leaves with a big smile on their face.
As a Store Manager we lead our teams and set a great example of how we want to be known, being demanding of ourselves to get the best out of ourselves. As well as building a great team, we have to be caring and care about the job we do, we have a lot of tasks and customers to serve and we have to get the balance right. From breaking down a delivery to doing schedules, appraisals and talking to your customers on the shop floor, you can imagine, the job is really varied, fun and focused. Every single day is different. All you need to do is apply and make everyday a happy day. Who doesn't want to dress up as a Minion for the day and call it a job?"

Assistant Manager
Anything your Store Manager does you need to do too! You must be able to lead and motivate your team ensuring they deliver only the best in customer service. Assisting and supporting the Store Manager, you will be responsible for maintaining and delivering company standards and your natural love of retailing must be accompanied by a real interest in the toy market. With an ability to react quickly and work under pressure, you will also adopt a hands-on approach and demonstrate a desire to lead from the front on the shop floor.
You will be able to demonstrate a track record in coaching and people development from your previous management or supervisory experience. Do a good job and there are great opportunities to take the next step up to Store Manager.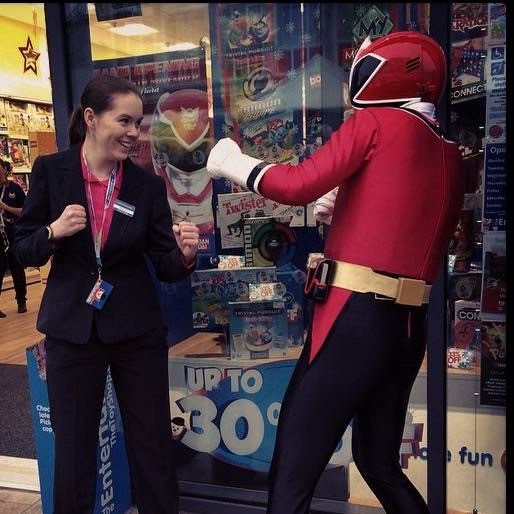 "I love being an assistant manager for The Entertainer. It requires you to be ambitious, demanding – of yourself not just others- but also caring. Each day brings with it a different set of challenges and yes it can sometimes be hard work, but watching your team achieve the goals that they are working towards or seeing your store do well, by far makes it the most rewarding job you could have. Not only are you involved in typical day to day tasks, but you will support your Store Manager and manage your team; delegation, planning ahead, keeping organised and managing your time will all contribute to a productive store, and no two days are the same! I have found that The Entertainer provides more support and opportunities to grow than most and they have made me feel like a valued member of the bigger picture and that my opinions matter. I can honestly never see myself working for any other company."

Trainee Assistant Manager
This position is an ideal opportunity for those who wish to progress to Assistant Manager level, who still need some more skills and experience. You will achieve this through hands on, on-the-job management experience and training, working with different managers and departments to get the best out of your journey.
The role requires motivated, enthusiastic and committed individuals who wish to progress their careers within the company and will also need to be flexible with working patterns, proactive and able to respond positively to change.
To take the next step into Management, you must perform well in the role, and demonstrate that you have the commercial, people management and leadership skills required to succeed in the next stages of your career.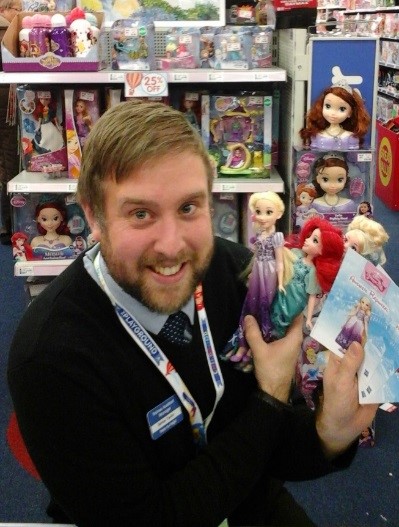 "The role of a Trainee Assistant Manager (TASM) is to complete everyday tasks and make decisions in a learning capacity working alongside store management teams, Head Office and others on the TASM Pathway. During your time as a TASM you will gather evidence to support your development to enable you to reach the next stage of your career. Also, you get to work in other stores in your area, meaning you get a wider base of experience in how different stores work and get to meet new people who can provide lots for you to learn from. As well as working in stores, you are given the opportunity to meet the other participants in the TASM pathway during training courses and conference calls where you are able to discuss and share knowledge with regards to different challenges and experiences within the workplace. Everyday there is something different!
I was promoted to TASM after 6 years working in a support role, helping new teams settle into their new store environments. During this time I was able to complete my supervisor modules which showed I was dedicated to progress to the next level. With constant change within a growing business there will always be challenges, but it has all been worth it to see development within the business and also in myself. I have loved being a part of it and look forward to a continued future within the company."

Supervisor
Are you up for a challenge! As a key part of the management team you are going to make a real difference, supporting the Store Management team and keeping everything ticking over. You will be energetic and outgoing, possessing a natural flair for retailing, proactive on the shop floor and efficient in completing routine administration. Other responsibilities will include organising daily tasks and rotas, merchandising, delivery management and key holder duties. We will offer you comprehensive on the job training and opportunities to progress and develop, if a career in retail management is for you.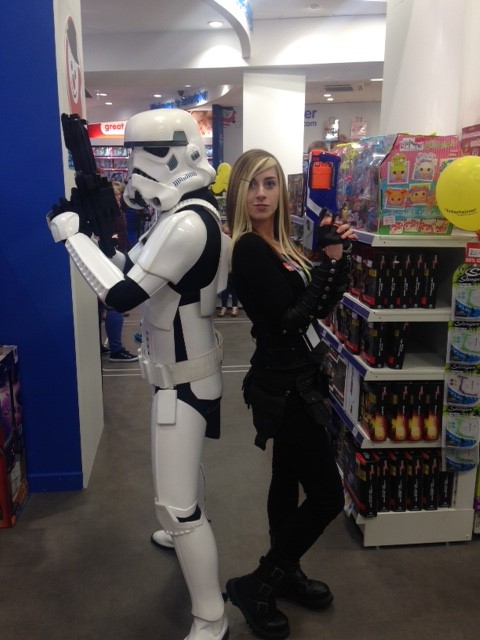 "Being a Supervisor for The Entertainer is like nothing I've ever done before! Its amazing fun demonstrating toys, and seeing how much our younger customers enjoy their time in store (the adults have their fair share of fun too!). I've battled with Stormtroopers, helped the Avengers defeat Loki and raced against Sonic the Hedgehog - but working in a toy shop isn't just about playtime. The challenges of my role have contributed enormously to my professional development, and as a Supervisor I am expected to set an example to my colleagues in terms of how I merchandise and look after my department on the shop floor, the standard of customer service I deliver and how I represent the company, whilst at the same time having a very hands-on role when it comes to managing the day-to-day running of the store.…a day at The Entertainer is never quiet!
My favourite thing about working for The Entertainer is how much effort the company puts into helping its employees learn and progress. Lots of companies encourage their teams to 'be better'– but The Entertainer is one of the few that actually shows you how, and gives you the tools to do it. We have a brilliant training system where you have the opportunity to complete Training Modules, tackling different aspects of your role. So far I have completed nearly all of these, meaning I am now a Senior Supervisor.
The Entertainer is growing more than ever and if you are thinking of applying to be a Supervisor, I can guarantee it won't stop there. There are so many opportunities to do so many different things, meet new people and new teams, and of course bring a lot of fun and happiness to a lot of kids!"

Sales Assistant
As a Sales Assistant in one of our stores, you are the main point of contact with our customers, you can't get more important than that! Asking brilliant questions to help identify what they are looking for, you will help the customers make their purchases and help your store to achieve it's targets. You will have to work hard, but we will offer you comprehensive on the job training and opportunities to develop and progress.
Having responsibility of your own section will allow you to merchandise and replenish the fantastic range of toys we have to offer our customer, whilst staying up to date with everything we sell. You will also be trained to use the tills, give fantastic product demonstrations and to work in the stock room with various tasks such as deliveries.
With an enthusiastic approach and sense of fun and energy, delivering outstanding customer service will come naturally, so why not join our success story and see where it takes you? Aim High!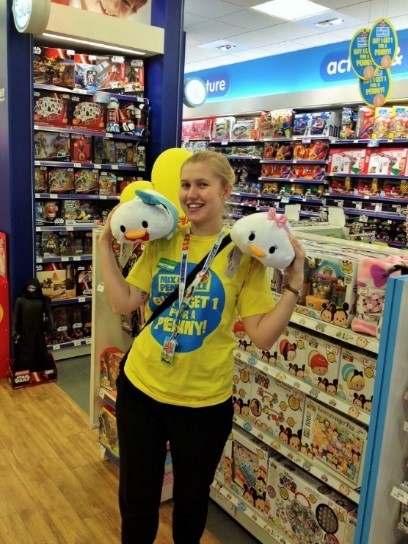 "The Entertainer is a friendly and fun environment to work in! I especially love helping the customers and getting a sense of achievement when you have done a good job. Another key part of working here is making the children's experience in store magical and different from any other toy store, which The Entertainer does really well with the bright colours and lots of demonstrations to get involved with. I have completed 3 training modules in my first year which has allowed me to know lots about the business and look forward to completing all 5 very soon!"